How GodConnect will enhance propagation of gospel —Oyebode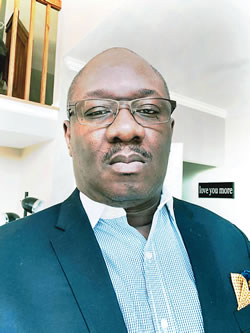 James Oyebode is the founder of a Christian digital platform, Godconnect. In this interview with RUKIYAT BAKARE, he speaks about the importance of the initiative in spreading the gospel.
How do you think GodConnect would enhance the propagation of the gospel?
I have worked in Information Technology for about 25 years and presently living in the United States. GodConnect is a social media platform built to foster connection among Christians and Churches across the world using technology. You will agree with me that the world is evolving and it is ideal we advance with the new technology to easily reach out across the world with the message of the truth. Many things happen on the social media and the church should not be left out of the new technology. Though many churches have moved online, but Godconnect is doing a greater task to bond souls to Christ.
What inspired your decision towards establishing GodConnect?
The vision was inspired by God to help spread the gospel in the age where technology is changing in a very fast pace the development of man. There was a soft launch early this year, precisely March, and the development of the application started in 2019. So, the experience has been awesome since its launch. The main goal of GodConnect is to create a platform using technologies to enhance the Christian experience. Technologies such as music creation software live Stream, church management software, 24-hour prayer access, etc. Though we are in the early phases of the launch of the platform, we have seen the prospect that the initiative will boost the propagation of the gospel across the world.
Is GodConnect a Church?
GodConnect is not a Church in the traditional sense; we aim to bring Christians and Churches together sharing resources and it should be considered as a social media platform just for Christians. We see this platform being a dominant Christian platform, known all over the world and setting a standard among other social media apps. We also have to establish a physical presence in Nigeria.
What is your take on the state of insecurity in the country?
We strongly believe we should always pray for our leaders to be led by the fear and wisdom of God. There is no amount of castigation that will bring things back to normal. Instead we should intercede on their behalf for God to restore the country to its rightful place.
YOU SHOULD NOT MISS THESE HEADLINES FROM NIGERIAN TRIBUNE
We Have Not Had Water Supply In Months ― Abeokuta Residents
In spite of the huge investment in the water sector by the government and international organisations, water scarcity has grown to become a perennial nightmare for residents of Abeokuta, the Ogun State capital. This report x-rays the lives and experiences of residents in getting clean, potable and affordable water amidst the surge of COVID-19 cases in the state…
Selfies, video calls and Chinese documentaries: The things you'll meet onboard Lagos-Ibadan train
The Lagos-Ibadan railway was inaugurated recently for a full paid operation by the Nigerian Railway Corporation after about a year of free test-run. Our reporter joined the train to and fro Lagos from Ibadan and tells his experience in this report…


This post was written by RUKIYAT BAKARE and was first published at tribuneonlineng.com