Lafarge Africa cleans Lagos market to celebrate world clean-up day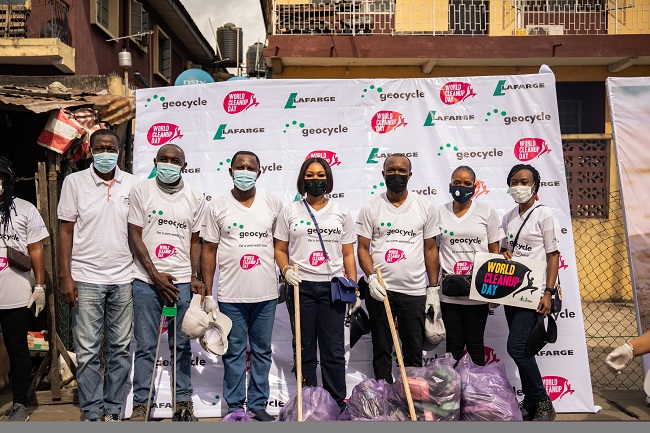 In commemoration of the World Clean-up Day, Lafarge Africa Plc partnered with the Food and Beverage Recycling Alliance (FBRA) in a cleaning exercise at Bariga market in Lagos.
In celebration of Lafarge's '2021 Geocycle week' with the theme 'Think Planet, Think Solutions' which coincide with the World Clean-up Day, employees and volunteers from Lafarge Africa Plc together with volunteers from the FBRA recycling partners participated in the cleaning exercise.
The Commercial Manager, Geocycle, Temitope Dosumu during the cleanup event said the purpose of the cleaning event was to sensitize people within the Bariga community and its environs on the importance of sorting waste from source and cleaning up the environment and streets. "This will go a long way to reduce the volume of waste that goes to the dumpsites and drainages and will prevent poor waste management. The World Clean Up Day is a reminder that we all have a part to play in attaining a zero-waste future," he said.
Daniel Adedokun, the Head of Geocycle, Lafarge Africa Plc noted that at Lafarge, commitment to sustainability is unwavering. "We drive a circular economy across everything we do, to keep materials in use for as long as possible, giving them a second life, and a third and a fourth, and using only what is needed to preserve nature. Improving waste collection is fundamental to advancing the circular economy – and to reducing marine litter," he said.
To further reiterate the company's position on waste management, Adedokun remarked, "As a responsible organization and leader in sustainable and innovative building solutions, it is our duty to ensure our resources are used in a closed-loop system to minimize waste. Lafarge Africa is working at the highest level to reduce the impact of industrial waste."
He reaffirmed Lafarge Africa's sustainability agenda that transcends individual efforts into partnerships with other organisations and companies to ensure progress for people and the planet and for a greener sustainable environment.
[ICYMI] Lekki Shootings: Why We Lied About Our Presence — General Taiwo
The Lagos State Judicial Panel of Inquiry probing the killings at Lekki Toll Gate, on Saturday resumed viewing of the 24hrs footage of the October 20, 2020 shooting of #EndSARS protesters by personnel of the Nigerian Army…
ICYMI: How We Carried Out The 1993 Nigerian Airways Hijack —Ogunderu
On Monday, October 25, 1993, in the heat of June 12 annulment agitations, four Nigerian youngsters, Richard Ajibola Ogunderu, Kabir Adenuga, Benneth Oluwadaisi and Kenny Razak-Lawal, did the unthinkable! They hijacked an Abuja-bound aircraft, the Nigerian Airways airbus A310, and diverted it to Niger Republic. How did they so it? Excerpts…Lafarge Africa cleans Lagos  Lafarge Africa cleans Lagos
ICYMI: What North Will Not Accept About 2023 Presidency —Prof Mahuta, UDU Don And Kebbi Dev Foundation Chairman
Sahabi Danladi Mahuta, a community mobiliser and APC chieftain. Mahuta spoke to select journalists at the sidelines of an Islamic conference in Abuja recently. Excerpts…Lafarge Africa cleans Lagos  Lafarge Africa cleans Lagos


This post was written by Kehinde Akinseinde-Jayeoba – Lagos and was first published at tribuneonlineng.com