Angry youths block Calabar-Itu Federal Highway, demand road construction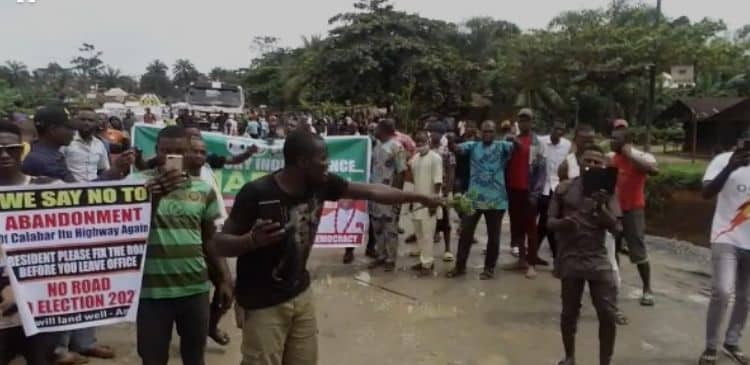 Angry youths have blocked the Akwa Ibom axis of the Calabar-Itu Federal Highway and are demanding the construction of the road which has been awarded on several occasions by the President Muhammadu Buhari administration.
They are also demanding to know the details of the contract of the 26-kilometre road which connects Akwa Ibom and the Cross River States, and vow to continue their protest until their demands are met.
Also Read: Youths block Calabar-Itu Highway
With different inscriptions on banners, the angry youths from Itu Local Government Area of Akwa Ibom State mounted a roadblock on the Ikot Akpan Itam axis of the Calabar – Itu Highway, with motorists unable to continue their journies.
The Youth President of Itu, Ubong Akpan said, they were tired of the deplorable condition of the road which was constructed in 1972 and demanded answers to questions on the project.
The youth leader also demanded answers from their representatives in government.
The paramount ruler of Itu, Dr Edet Inyang who couldn't drive through, on his way to the swearing-in of some paramount rulers in Uyo, the state capital, and commuters, gave their support to the action of the youths.


This post was written by Abisoye Adeyiga and was first published at ait.live