FG conducting maintenance works on 41 bridges ― Fashola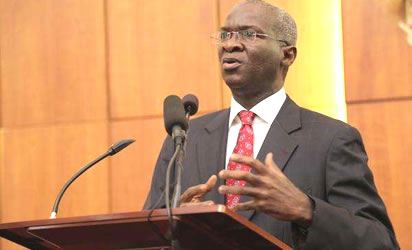 The Federal Government (FG) on Thursday said it is currently undertaking maintenance works on 41 bridges across the country.
This, it said was in line with its maintenance initiative which has also assessed schools, courts, hospitals, correctional facilities and police buildings with a view to commencing work on them
The Minister of Works and Housing, Babatunde Fashola stated this at the 27th meeting of the National Council on Works and Housing in Bauchi.
According to him, as critical as infrastructure development is to any nation, maintenance of such will help preserve them.
"We must maintain the infrastructure we built. This is important for many reasons, the first of which is that we preserve the life of the infrastructure and get the best value for the money we spent on it," he said.
He further stated that:"a maintenance economy is a critical contributor and driver of GDP in many economies around the world."
Fashola stressed the need to develop policies to stimulate the economy of maintenance.
Already, he said the FG had initiated such policy in 2019,which was now at implementation stage.
"This has seen the Head of the Federal Civil Service approve the creation of the Department for Federal Public Asset Maintenance.
"The next step is for each Ministry Department and Agency (MDA) of government to set up their own units for maintenance, undertake a condition assessment of their infrastructure, develop a maintenance plan, and implement the procurement for annual periodic and scheduled maintenance," he added.
YOU SHOULD NOT MISS THESE HEADLINES FROM NIGERIAN TRIBUNE
Buhari Urges MTN For Quality Service, Downward Price Review In Cost Of Data, Other Services
President Muhammadu Buhari Friday at State House Abuja urged the MTN Group to make the available top-of-the-range service to its Nigerian subscribers…  FG conducting maintenance works on 41 bridges  FG conducting maintenance works on 41 bridges  FG conducting maintenance works on 41 bridges  FG conducting maintenance works on 41 bridges.


This post was written by Adetola Bademosi – Abuja and was first published at tribuneonlineng.com