Oyo spends N70 million monthly on Covid-19 treatment, isolation centres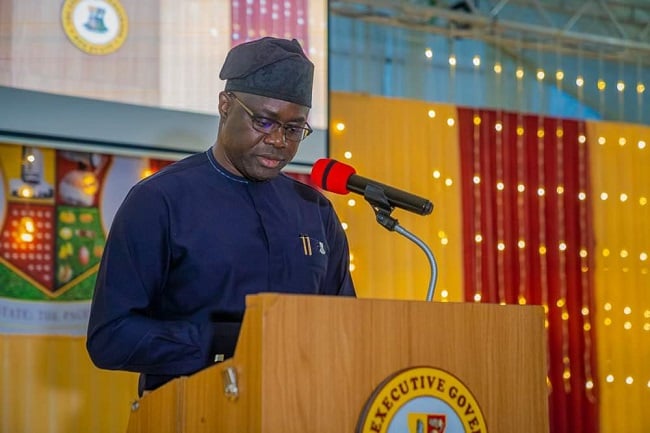 The Oyo State government says it spends N70 million monthly on the treatment of Covid-19, in its infection disease isolation centres.
Permanent secretary, Oyo State Ministry of Health, Dr Mufutau Ayoola, who made the disclosure at the opening of the 2021 Pharmacy Week of the Pharmaceutical Society of Nigeria, Oyo State chapter, stated that the cost also included maintenance of the isolation centres, feeding and payment of hazard allowance.
Dr Ayoola stated that some doctors that fell ill from contracting covid 19, in the course of working at the state's isolation centres, were on treatment. He stated that the incidence of doctors contracting covid-19 was a hazard of working at the isolation centres.
Chairman, PSN Oyo State, Mr Adegboyega Oguntoye said that pharmacists are frontline care providers in responding to public health epidemics and pandemics, in collaboration with other members of the health team.
Mr Oguntoye added that: "We do not just advise patients on how to use their medicines anymore, pharmacy practice in Nigeria now takes a holistic approach to patient care. Our skills and knowledge have expanded remarkably.
"From patient counseling to ethical referral processes, health promotion, vaccination and immunization services, it is not surprising that the International Pharmaceutical Federation advocated and the World Health Organization approved that pharmacists be part of frontline care providers in public health service."
The keynote speaker, Mrs Folasade Lawal, stated that Nigeria should also tap into the vast number of community pharmacists in the country to tackle vaccine hesitancy, and achieve the aim of immunising all Nigerians against COVID-19.
She declared that pharmacy-based immunisation, as it is practiced in the world, allows pharmacists to play active roles in immunisation. She declared: "There are over 4,400 registered community pharmacists in Nigeria. If they are empowered, the story will change for us. So it needs to be looked into properly."
Mrs Lawal declared that trust make patients to prefer going to community pharmacists and as primary care givers, they were also in the best position to provide disease prevention and health promotion to both the well and the sick.
The pharmacist, however, declared a looming epidemic of drug abuse and antimicrobial resistance that is fueled by the COVID-19 pandemic among many other factors.
She, therefore, advocated for necessary environment and policy back up for pharmacists to offer immunization services, ensure COVID-19 vaccines can reach more people at the grassroots as well as the vulnerable groups that fear going to public health facilities for fear of contracting the infection.
YOU SHOULD NOT MISS THESE HEADLINES FROM NIGERIAN TRIBUNE
We Have Not Had Water Supply In Months ― Abeokuta Residents
In spite of the huge investment in the water sector by the government and international organisations, water scarcity has grown to become a perennial nightmare for residents of Abeokuta, the Ogun State capital. This report x-rays the lives and experiences of residents in getting clean, potable and affordable water amidst the surge of COVID-19 cases in the state.


This post was written by Sade Oguntola and was first published at tribuneonlineng.com