We can't say govt shouldn't borrow —Senate President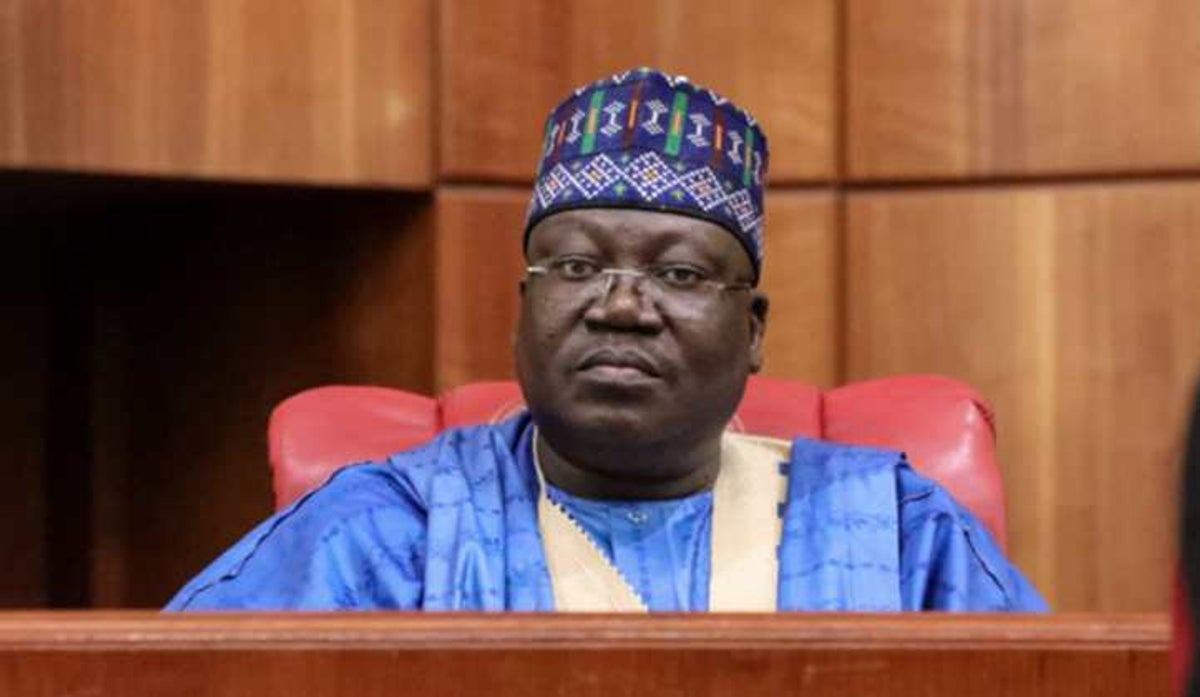 President of the Senate, Ahmad Lawan, on Wednesday, justified the rising external debt profile of the country under President Muhammadu Buhari administration.
Senator Lawan in his concluding remarks shortly after the debates that followed Senator Olamilekan Adeola presentation of the Senate Joint Committee on the 2022-2024 Medium Term Expenditure Framework (MTEF) and Fiscal Strategy Paper (FSP) dismissed comments by Senators that the wave of borrowing under the present administration was not sustainable.
Nigerian Tribune checks revealed that the Senate last week received a formal request from President Buhari asking for the Senate approval for $4,054,476,863.00, plus Euro €710,m and Grant Component of $125m.
Further checks revealed that the Senate had last April approved fresh external loans of $1.5 billion and €995 million for the Federal Government.
At Tuesday Senate plenary, the President of the Senate gave the Senate Committee on Local and Foreign Debts, chaired by Senator Clifford Ordia, one week to consider President Buhari fresh loan request and report back to the entire Senate.
A copy of the Senate Joint Committee 2022-2024 MTEF/FSP report sighted by Tribune Online and read by Senator Adeola revealed in the 2022 budget, a fiscal deficit of N5.62 trillion ( including Government-Owned Enterprises); New Borrowings of N4.89 trillion ( including foreign and domestic borrowing) and Debt Service estimate of N3.12trillion.
Senator Lawan maintained that nothing could be done to halt the rising external debt profile as he blamed past administrations of lack of foresight to provide for the rainy day.
He said: "The Senate has passed the stage of discussing not to borrow, the issue is what are we borrowing for.? We are in a hurry to develop our infrastructures but we need to be strict with the conditions. What are the moratorium? If it isn't favourable, we slow down. But we can't say we shouldn't borrow.
"When you don't make hay while the sun shines, this is the kind of thing you face. We wasted our resources when we had the chance. Now, our options are limited. I know we need to reduce borrowing but the Committee of Finance is doing enough to ensure that Government Owned Enterprises increase revenue for the country.
" I agree with Senator Albert Akpan that we aren't doing enough oversight. The Committees are supposed to know how much the Ministries, Department and Agencies make and what they remit. I think we need to up our game.
"I want to challenge all the revenue-generating agencies, they need to do more because we have given them enough support and they have no reason not to improve on their collection. I think it is high time our Committee on Finance and others look at some of the agencies that we should stop funding. They collect to spend but have nothing to remit.
"Again, there are some MDAS that shouldn't exist anymore, they are no longer relevant but they continue to collect funds from the federal government."
Earlier in his contribution, Senator Gabriel Suswam( PDP Benue) had observed that Nigeria had since borrowed beyond the three percent threshold enshrined in the Fiscal Responsibility Act.
He noted that since the law has been observed in the breach by the Buhari administration, there is an urgent need for the Senate to amend it.
He said:" There are issues and we must honestly address them. Some of these issues since 2019 have become a recurring decimal in all the MTEFs that have been presented here.
"The issue of borrowing and deficit. We now have a deficit that has been growing year in, year out. When is it going to stop?
"These are issues that agitate the minds of Nigerians especially when it concerns borrowing.
"We have a deficit that has gone beyond the threshold of the Fiscal Responsibility Act (FRA) 2007 which then means that is either we amend the FRA so as to accommodate this deficit.
"The FRA stipulates a threshold of 3 per cent. Last year it was above the threshold, this year, it is above by 6 per cent.
"In managing an economy, we need to combine fiscal policies with monetary policies. The Central Bank has failed woefully under the monetary policy."
Senator representing Kogi state, Smart Adeyemi equally decried the spare of borrowing without the corresponding results in the physical infrastructures across the country.
Addressing newsmen after the Senate adjourned plenary, Senator Adeola allayed fears of Nigerians as he submitted that while the budget would be financed mainly from foreign and domestic Borrowings, there is provision for N638.32Billion from the privatisation of federal government assets.
He further restated the Senate determination to ensure that henceforth MDAs were compelled to bring a corresponding revenue profile tied to their expenditures for the year.
"Henceforth, any agency bringing its budget must bring with a corresponding revenue profile. When government gives them money, they still pocket their own revenue. We need to ensure that they remit their revenue in compliance with the Fiscal Responsibility Act.
YOU SHOULD NOT MISS THESE HEADLINES FROM NIGERIAN TRIBUNE
Buhari Urges MTN For Quality Service, Downward Price Review In Cost Of Data, Other Services
President Muhammadu Buhari Friday at State House Abuja urged the MTN Group to make the available top-of-the-range service to its Nigerian subscribers…  We can't tell Buhari not to borrow  We can't tell Buhari not to borrow  We can't tell Buhari not to borrow  We can't tell Buhari not to borrow.


This post was written by Taiwo Amodu – Abuja and was first published at tribuneonlineng.com