10 Best Find My Phone Apps For Android in 2021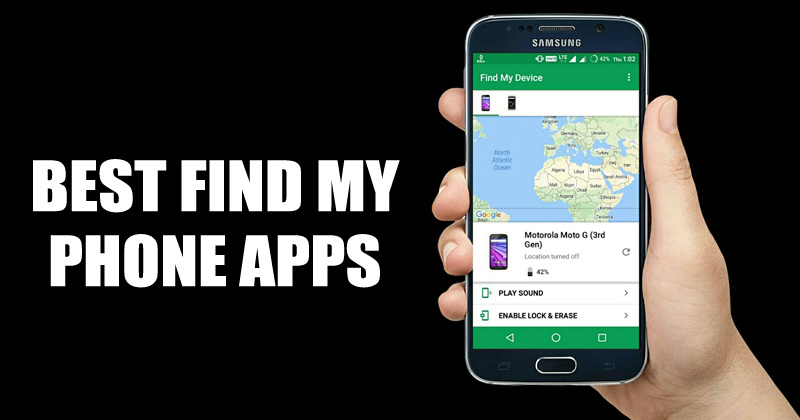 Let's admit, losing a smartphone is always an unpleasant experience. You have your contact information, personal information, pictures, videos, etc., on there. Nobody wants to think about their phones getting stolen in the modern age, as they can invite personal and financial troubles.
However, losing a smartphone or phone theft is pretty standard, and it could happen to anyone. So, it's always better to be on the safe side by installing to find my phone apps. There are plenty of Find my phone apps available on the Google Play Store, and in this article, we will list a few of them.
List of 10 Best Find My Phone Apps For Android
With find my phone apps, you can quickly recover your stolen or lost phone. So, let's check out the best to find my phone apps.
This is one of the best find my phone apps for Android that you can install right now. The great thing about Family Locator is that it lets you create a circle with your friends and family.
The members of the circle can keep track of where you are. The app uses your phone's GPS sensor to mark your location on the map.
Well, Wunderfind is one of the unique phone finder applications on the list. Guess what? Wunderfind can help you find your lost AirPods, headphones, Fitbit trackers, Android & iOS devices.
You need to connect your devices with this app. Once connected, the device radar shows you all the devices that are near you.
This is a native find my phone app provide by Google. If we talk about the features, the app does all basic stuff like sounding alarms, locking devices, etc. Not only that, but it also lets you wipe your phone via the web interface.
To track the location, the app relies on the GPS functionality of your phone. The great thing is that it's completely free with no in-app purchases or advertisements.
One of the best and top-rated anti-theft, data security, and device management apps available on the Play Store. The app lets you create control zones on the map to alert device movement in and out of them. Apart from that, Prey Anti Theft is known for its accurate GPS geolocation tagging.
Well, TrackView is a family safety application for Android. The app turns your smartphone into a connected IP camera with a GPS locator. It also provides valuable data like event details, two-way audio detection, IP camera for home security, and more.
Also, with the premium plan, you get cloud storage options to backup your recordings. Overall, TrackView is the best IP camera and GPS locator app for Android.
If you are searching for a robust and accurate GPS tracker app for your Android device, then you need to give Phone Tracker By Number a try. The Android app has been designed to find your kids' location by mobile number.
First, you need to set up the app on Android and register a phone number. Once done, you will be able to track the GPS location of the device.
It's one of the best parental control apps available on the Google Play Store. Unlike every other app, My Family – Family Locator lets you create a circle with your friends and family.
Once done, the app shows the real-time location of all added contacts on a private family map. My Family – Family Locator also lets you browse location history for the past 30 days.
Locator 24 is another best parental control app for Android that can track a lost smartphone. The app lets you create both Child and Parent Profiles. Then, depending on your selections, the app generates a unique code that you need to share with the other devices.
Once added, the app lets you see the circle members' location history, sends you a notification when someone enters a designated place, sends an alert in the event of an emergency, etc.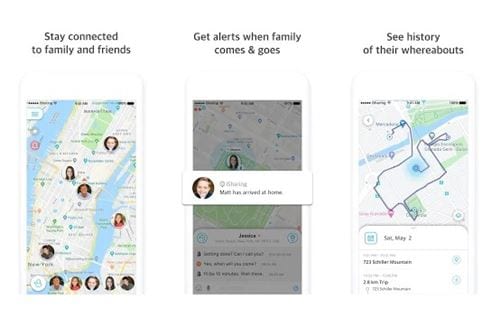 iSharing Location Tracker allows family members and close friends to share their location information privately. With iSharing Location Tracker, you can view the real-time location of added contacts, receive real-time alerts of any location-based events, track lost or stolen smartphones, etc. The app also offers free voice messaging features.
If you are looking for an easy-to-use phone tracker app for your Android device, you need to give Find My Devices a try. It's a cross-platform app that helps you locate your lost or stolen Android device.
It also offers a place alert feature that sends you notifications whenever a device enters or leaves a pre-defined location.
So, these are the best find my phone apps for Android. I hope this article helped you! Please share it with your friends also. Also, if you know of any other such apps, let us know in the comment box below.


This post was written by Amarnath Chakraborty and was first posted to techviral.net