How to Disable PC's Power Button On Windows 10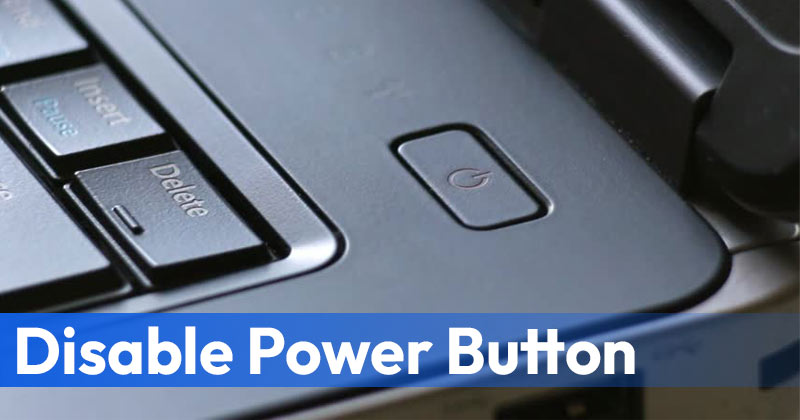 Let's admit; sometimes, we accidentally shut down our computer/laptop. Accidental shutdowns are more evident in Windows 10 because the Power button is located just behind the Settings icon on the Start menu.
Sometimes, we wish to turn off the power button completely on Windows 10. Actually, Windows 10 allows you to change the behavior of the Power button. So, you can either disable the power button or make it do something different.
Some people might want their power button to do different things like putting the computer in sleep mode, hibernating, etc. So, if you wish to modify the behavior of Windows 10's power button, you are reading the right article.
Also read: 10 Best Windows Task Manage Alternatives
Steps to Disable PC's Power Button on Windows 10
In this article, we will share a detailed guide on how to disable your PC's power button on Windows 10. The process is going to be very easy; you need to implement the steps given below. Let's check out.
Step 1. First of all, open Windows 10 search and type in the 'Control Panel.'
Step 2. On the Control Panel, click on the 'Hardware and Sound' option.
Step 3. On the next page, find the Power Options and click on the 'Change what the power buttons do' link.
Step 4. You need to define what happens when you push the power or sleep button on the next page. You will get five options-
Do Nothing: If you want to disable the Power button, select this option.
Sleep: If you select this, your PC will enter Sleep mode when you push the power button.
Hibernate: This will put your PC into hibernate mode.
Shut Down: This is the default option. This will shut down your PC.
Turn off the Display: This will turn off the display of your PC.
Step 5. If you wish to disable your PC's power button, select 'Do Nothing' and click on the 'Save Changes' button.
That's it! You are done. This is how you can disable your PC's power button on Windows 10.
So, this guide is all about how to disable your PC's power button on Windows 10. I hope this article helped you! Please share it with your friends also. If you have any doubts related to this, let us know in the comment box below.


This post was written by TechViral Staff and was first posted to techviral.net